Carol has been a member of the Club since it was formed in 1989. She was a new Police K9 Handler with the newly formed K9 Unit of a local Police Department, handling Ozark vom Heisthaus SchH 2. She enjoyed watching Master Trainer Richard Pastucka and his dog Necko von Holzland SchH 3 as they trained for their DPO 2 title. Carol told Rich she she wanted to earn the police title and Rich helped her prepare. She had never even seen a Schutzhund trial when she and Ozark entered the trial of the York SchH Club in September, 1989. They did fairly well, and Carol was hooked! The following spring, the team entered the 1990 North American SchH 3 and DPO Championships in Plymouth, MA.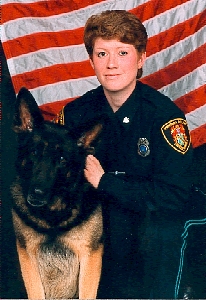 Officer Carol Karchnak and K9 Ozark, SchH 2, DPO 2, WPO
The following are the dogs Carol has trained and titles she has earned since joining the Club:
Ozark Vom Heisthaus SchH 2, DPO 2, WPO...Ptlm. Carol (Karchnak) Pisano and Ozark were partners from Feb., 1988 until Ozark officially retired in Oct., 1994. Ozark remained in residence with Carol until his passing in Feb., 1998. During their time together they earned the DPO 2 title three times and the WPO title twice. They competed in the 1990 and 1991 North American WPO Championships.
Elko Von Holzland BH...Carol raised Elko from a 10-week old puppy. Elko was a son of Uras Von Haus Anja SchH 3, IPO 3. Together Carol and Elko earned a BH.

Carol and Elko awaiting their BH critique
When Carol was at the 1990 North Americans, she saw her very first Belgian Malinois. She was impressed with the dog's speed and agility and his devotion to his handler. She decided then that one day she would have one. Now, she has three.
Vyon Van Dupae's Kennelke ( Falco) DPO 1, DPO 2...Falco was imported from Belgium by Holzland Kennels late in 1993. He in March, 1994. Falco earned his DPO 1 on his home field in Nov., 1995, scoring high in protection (with 95 points). Falco earned his DPO 2 Sept., 1998, scoring 280 pts., and winning HIGH IN TRIAL, HIGH OWNER TRAINED, HIGH OBEDIENCE, and HIGH DPO 2. In the interim between titles, Carol earned a title of her own...Sergeant. After Falco's impressive showing for his DPO 2, they (well, Falco had little to say in the matter) decided to compete in the 1999 North American WPO Championships in Gatlinburg, TN. They had some bad luck, but they're not sorry they tried.
On October 17, 2001, K9 Falco worked his last shift as a police service dog. He will remain with Carol during his retirement years.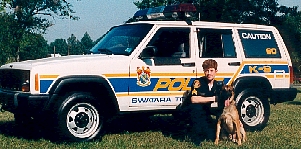 Sgt. Carol Karchnak and K9 Falco, DPO 2
Eros de la Maison des Lions...If only looks were everything! Eros is a beautiful dark mahogany colored Belgian Malinois, grandson of Bronco Perle de Tourbiere of Ring Sport fame, and son of Hycko Perle de Tourbiere, SchH 3. Unfortunately, this little boy didn't work out as a competition dog, but he is a great companion and "personal protection" dog. He's also a great stress reliever and personal therapy dog for his master as well.

Eros de la Maison des Lions and Sally
Axel...In Dec., 1999, Carol purchased a Malinois she named Dax with that hope that he would be her next sport and patrol dog. Dax, although he was AWESOME in his protection work and loved to track, was just a little too much dog. In August, 2000, Axel arrived! Axel is a BIG Malinois, but is very affectionate and very eager to please. He seems like the "happiest" dog alive! This is a dog you couldn't help but want to spend time with.
Although Carol has participated in the Schutzhund sport for 13 years, she has always concentrated on Police titles (DPO) and earned the BH twice. She hopes to earn membership into the prestigious Schutzhund 3 Club with Axel.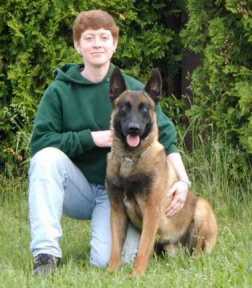 Carol and Axel
On Saturday, August 25, 2001, Carol and Axel earned their BH on their home field under SV Judge Hans Gunter Voss. As of November, 2001, Axel is serving as a patrol dog. In only a few short months, Axel was credited with the arrest of several felony suspects. He has a very promising career ahead of him!
On April 24, 2004, Axel earned his SchH 1 at the Central Maryland SchH Club, under USA Judge David Millmore. Axel earned 88 points in Tracking, 80 points in Obedience, and 93 points in Protection for a total of 261 points.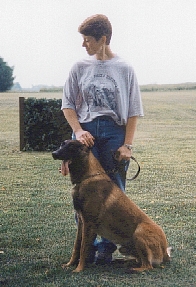 "I did good, huh, Mom?"
On October 23, 2004, Axel earned his SchH 2 at Fair Hill SchH Club, under USA/DPO Judge Bill Szentmiklosi. Axel earned 88 points in Tracking (yes, he is quite consistent), 91 points in Obedience, and 92 points in Protection, for a total of 271 points. Axel was the highest scoring dog in obedience and protection as well as the highest owner trained. He placed 2d only by 3 points!!! SchH 3 in spring, 2005?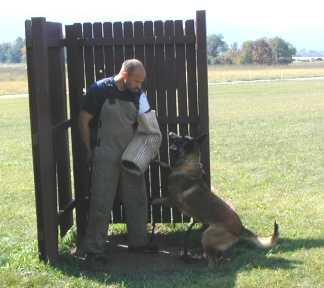 Axel's hold and bark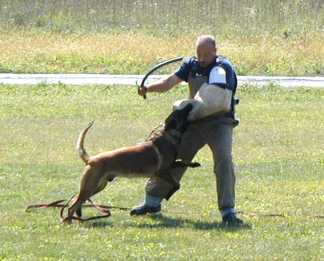 Working on the Schutzhund 1
Please visit...