Jill is the wife of our Training Director, World Famous dog trainer and Schutzhund competitor, Rich Pastucka. Jill first became interested in working dogs and the Schutzhund sport when she and Rich met in 1981. During their courtship, Rich taught Jill how to train dogs (and she taught him how to ride horses). Jill dabbled in some obedience training. Jill says, "We had a lot of fun times with the dogs, horses, my oldest son Preston, and each other."
Jill became a little more serious about the sport when Rich became the Training Director of the York SchH Club in 1984. Rich and Jill got married in 1985. The size of the Pastucka family began to increase, not just by the number of dogs, but with the addition of their daughter, Kimberly, and then their son, Joshua, in 1987.
During that time Jill tried working a 1/2 German, 1/2 American bred female GSD, Gisa, who became their Kennel's brood bitch. But Jill's time to work dogs was limited due to caring for her young children. Jill tried again a few years later with a young bitch of the Pastucka's own breeding, Bestie. Bestie was very independent and not what Jill was looking for in a working dog.
It was during this time that Rich and Jill began their own kennel business, under the name "Holzland Kennels" and "Von Holzland Shepherds." They began breeding, boarding, grooming, and training dogs. Rich was on the road a lot, traveling between police department accounts, and on his off nights, training with the York SchH Club. Rich decided to get back into Law Enforcement so he would have a more definite schedule to spend more time with his family and his own dogs. Jill also convinced Rich that it was time to form their own Club in Hegins, close to home.
In 1988, the Hegins Valley Police and Schutzhund Club was "born." That was also the beginning of the training for the famous Uras Von Haus Anja!
Jill tried her luck with a variety of dogs, but as most Schutzhund people know, being involved in working dogs is not without its disappointments. Jill worked a very nice little bitch named "Demi" who they hoped to be their brood bitch. Demi was a fireball and would have been a real "crowd pleaser", if only her hips would have OFA'd. Then Jill raised a sable male GSD named "Boss." Unfortunately, as Boss was maturing and really starting to progress in his work, he developed health problems. Jill sadly placed him with a very dear friend of hers.
Jill was becoming discouraged when Rich helped her find her buddy, "Bock von der Huelhin Haus". Bock was loaded with personality and Jill loved him dearly. Bock followed her on all of her daily chores, caring for their other animals, and would play with the Pastuck'a roosters. Bock liked everyone except Rich--sometimes that can be a problem.
Jill and Bock with their SchH 2 Trophies
Bock and Jill earned their BH, SchH 1, SchH 2, and SchH 3, winning quite a few trophies along the way. When Bock earned his SchH 1, he won High SchH 1, High Obedience, High Tracking, High Club Dog, High Owner Trained High Club Dog in Obedience (perpetual Club trophy). Bock won High SchH 2, High Obedience, and High Owner Trained, along with his SchH 2 title. With the earning of his SchH 3 he was awarded High SchH 3, High Tracking, High Club Dog, High in Trial, High Club Dog in Obedience (perpetual Club trophy). In 1995, Jill and Bock earned their place in the SchH 3 Club.
Jill receiving her trophy from USA/DPO Judge Mike West, with former Club President Larry Harris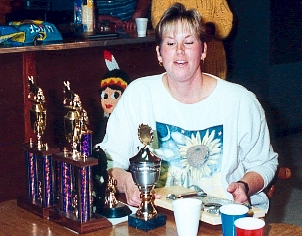 Jill is probably thinking, "So many trophies, so little space."
Unfortunately, Bock was not a dog suitable for major competition. Jill trained Bock for explosives detection and sold him as a "bomb dog." Jill still misses her pal!
Jill became a little more involved in the training aspect of the Pastucka's business. She took on the training of a Rottweiler, Dirk, for an injured Club Member and dear friend. Jill and Dirk earned their BH and SchH 1. Jill says, "Boy! was it a job and an experience" working Dirk.
The Pastucka's acquired another bitch, Mausie von der Kine, from Germany. Mausie was 7 mos. old. She was a phenomenal young bitch, but bad luck struck again, and her hips did not OFA.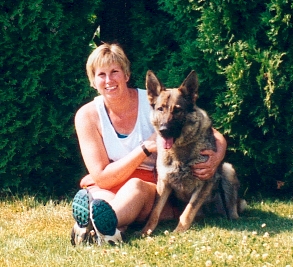 Jill and Mausie relaxing after training
Jill has handled a couple of other pups, which just were not suitable for work, and had to be placed. She says that she has not handled her own dog for about three years now. She is awaiting the birth of a litter of pups, from which she will get "pick male". She will try her luck again, although she believes she is not quite as serious as she used to be. (That will change if this pup is as nice as another pup in our Club from the same kennel.)
Meanwhile, Jill is still active in the Club, serving as the Treasurer for many years. She is out there cheering for all of the other Club Members as they work toward their goals. But for now she is content being very involved in her children's very active lives, and tending to her pets: a GSD, Legende, she describes as "apartment-sized", who was a runt from one of the Pastucka's litters; a petite Papillion named "Bambi", who weighs 3.4 lbs. and is 8-years old.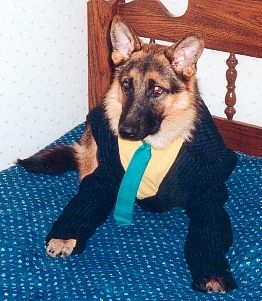 Legende dressed in formal attire
Bambi at Halloween
Jill's children are not little anymore! Preston is 23 years old and is "out in the real world" earning a living. Kimberly is now 16. She is very involved in showing horses. Kimberly and her mother are active in 4-H, and spending time with their horses. Joshua, 14, is involved in sports, especially football, and riding four-wheelers with Preston. So you see, Jill keeps very busy even when she's not handling a dog. And it must be what keeps her young, because she certainly is not old enough to have a 23 year old son!
Jill says, "The German Shepherd is my favorite breed. I guess you would say I'm prejudiced, but, in my opinion there is no other breed that is so adaptable, eager to please, bonding and able to just darn do almost anything like a German Shepherd can. I love the breed: noble, friendly, sociable without being over-bearing, courageous, wonderful family protector."