Jim and Bonnie Kitchen are new Club Members. They have no children, just their pets.

Jim works at Knoebel's Amusement Resort, Elysburg, PA, as a maintenance worker. He is also a Catawissa Township Supervisor and an Emergency Management Coordinator. He operates a small business selling two-way radios, mobile, and portable radios to police, fire, and ambulance personnel.

Jim and Bonnie recently purchased a 5-1/2 mo. old German Shepherd from Montreal, Canada, named "Mogen." Mogen's brother, Mutz, is owned by Rich Pastucka. Jim will be training with Mogen for Schutzhund.


Jim and Mogen
Bonnie is self-employed. She works at home doing ambulance billing for two ambulance services. She is an active EMT and Chief of Southside Ambulance. Bonnie and her dog, Fina, went through narcotics detection training with Rich Pastucka. Bonnie continues to work with Fina. She also has two cats, Monkey and Kitty.


Bonnie and Fina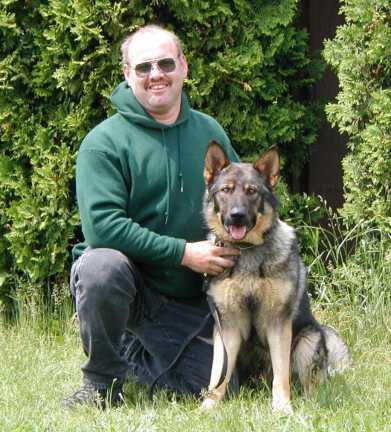 Jim and Mogen