For many years, our Clubhouse was a cinder block garage with a stone floor. It had broken windows, a leaky roof, and we shared it with a variety of furry friends. In 1999 the Club decided to chip in some extra funds and purchase a 28 foot shed. We positioned that shed right along the trial field.



View of our Clubhouse from the field.
Since the shed was purchased, we acquired some "new" appliances and furniture (like a desk for our trial secretary). We installed three large windows (so that people in the Clubhouse can see the field) and electricity. Some of our talented members constructed a "service" window and counter for food and beverage service. We also acquired an air conditioner and a kerosene heater (for those arctic Hegins winters). Recently, we began adding insulation and T-11 to the walls.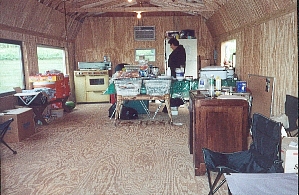 An inside view of our Clubhouse and members working on trial day.
Watch here for updates and photos as our "shed" becomes a Clubhouse.


A view of our field on trial day.