CONGRATULATIONS
to Tim on his recent promotion to
Sergeant
of the Susquehanna Township Police Department!!!
Tim first became interested in training dogs for hunting, especially bird hunting. Tim is pictured here (a few years ago) with his now retired bird dog Sally, and their day's hunt. Tim raised and trained Sally from a puppy.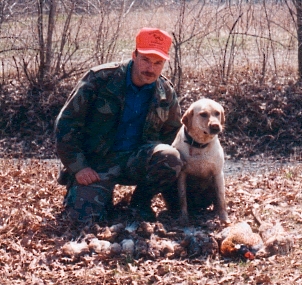 Tim is the President of the HVP&SC. He is also one of the helpers. Tim is a K9 Handler with the Susquehanna Township Police Department, presently handling Nico Von Holzland, BH, SchH 3. Nico and Tim recently earned their SchH 3 under USA/DPO Judge Mike West. During his critique of Nico's protection work, Mike stated that on a scale of 1-10 in courage and fighting instinct, he would rate Nico a "15!" Nico is a son of Uras Von Haus Anja. In addition to being a competition dog, he is also a patrol and narcotics detection dog. Tim acquired Nico as an adult dog when the Club member who raised him left the Club and gave Nico up for personal reasons. All of Nico's titles have been earned with Tim.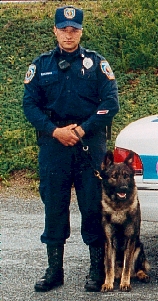 Officer Tim Karchnak and K9 Nico von Holzland, SchH 3
Tim had some misfortune early on in his career as a handler. His first two dogs were not suitable for police work and had to be returned. Then he got Dan...Dan was a good police dog and most especially a "man-trailing fool!" But, Dan was also quite a challenge--constantly! Together they earned their BH, SchH 1, SchH 2, and DPO 2. Dan is retired and in residence with Tim.

Officer Tim Karchnak and K9 Dan (retired), SchH 2, DPO 2
Danny passed away on Jan. 2, 2001. Farewell Dan!
In December, 2002, Nico retired from a very proud career as a police service dog. He will enjoy his retirment in residence with Tim.

On October 23, 2004, Tim and his present K9 Partner, Mutz, earned their SchH 1 at the Fair Hill SchH Club, under USA/DPO Judge Bill Szentmiklosi. They hope to earn their SchH 2 in Spring, 2005.