It was about 1989 when Peg's daughter Renee brought home a little mixed breed puppy. Steve immediately took ownership of the dog, now known as "Falcor." Steve began attending classes in obedience, agility, as well as other activities, with Falcor, but never showed her in an AKC match.
During one of his classes, Steve met a former (and very dear) member of the Hegins Valley Police and Schutzhund Club, who also participated in AKC events. Steve immediately became intrigued with the Schutzhund sport. He bought a German Shepherd pup he named "Talen." Steve and Talen came to the Club in 1995 and have been members ever since.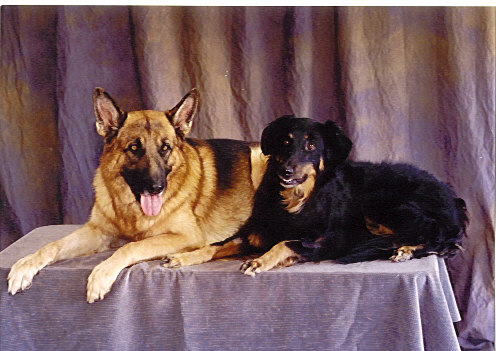 Talen and Falcor
Steve and Talen earned their BH in 1996 on their home field. It took them a while to work up the nerve to go for their SchH 1 (also Talen had some injuries during that time), but in 1999 they earned their SchH 1! We are hoping to see them earn their SchH 2 in 2000.
This year Steve decided it was time to start another puppy. He acquired a solid black female Shepherd pup he named "Brina." (We call her "a pistol!")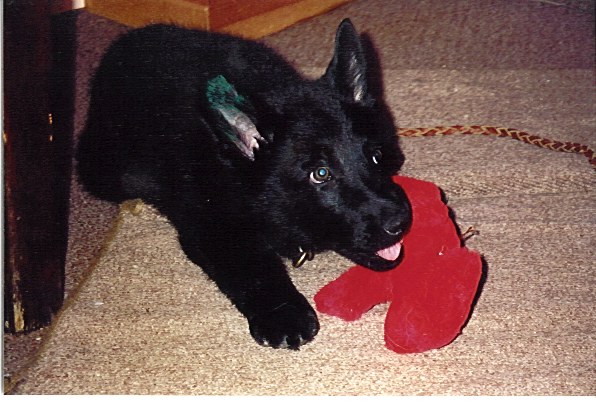 Brina puppy
Peggy doesn't handle a dog in Schutzhund, but she is a very valued member of the Club! We tease her that she must have been a "boy scout" because she is always prepared for everything! She comes to training and all of our trials and workdays. She also accompanies Steve whenever he goes tracking or does obedience on his own. These two have a great relationship!
The Tepper's philosophy is that their dogs are pets, first (and, without a doubt, very important members of the Tepper family), and must be very well trained. Their dogs go everywhere with them: concerts in the park, vacations, and craft fairs. Both Talen and Falcor are therapy dogs, in which both Peg and Steve are very much involved. They attend parades, go to schools, nursing homes, and hospitals.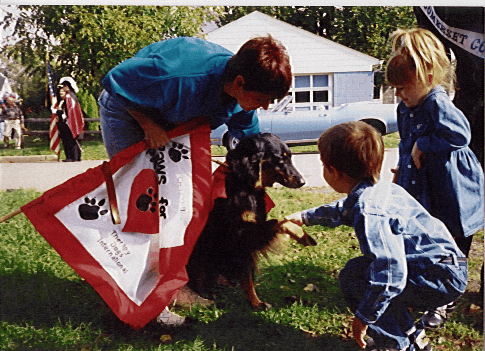 Peggy and Falco meet some children after a parade.
Talen is also quite famous. He auditioned for a television sitcom. He can also been seen on the Sony website as "a wolf in sheep's clothing," although with the costume, you cannot tell it is Talen. It was a very exciting day for Steve and Talen to work in a professinal photo shoot.
Did I mention the Tepper's travel from New Jersey (!) every week to train with the Club?! Not only does that speak volumes about their dedication, but also about the calibre of training we get under the guidance of Rich Pastucka!
They are also our "resident computer experts." I'm not sure where any of us newly proclaimed computer geeks would be without them.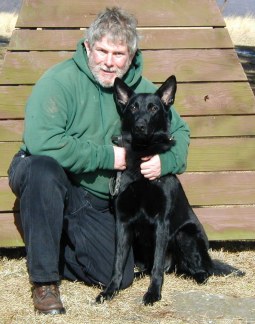 Brina (1-1/2 yrs.) and Steve
On Saturday, August 25, 2001, Steve and Brina earned their BH on their home field under SV Judge Hans Gunter Voss!